Common Misconceptions About Car Accident Claims
April 13, 2023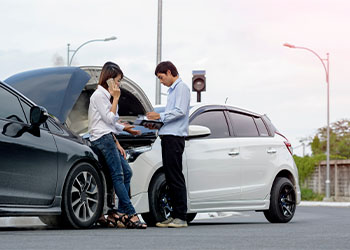 Car accidents are a serious matter that can cause physical and emotional stress. In 2022, the Florida Highway Safety Office reported 3,475 fatalities and 249,096 personal injuries caused by car accidents. This figure highlights the commonality of vehicle collisions. Because accidents happen often, there are many misconceptions surrounding the car accident claims process. So, it is worth clearing them up.
David Lee Sellers, PA, is a knowledgeable personal injury attorney that supports car accident victims in Pensacola, Florida, and neighboring locations such as Crestview, Fort Walton Beach, and Milton with the best available legal advice. Attorney David Lee Sellers has everything necessary to help you pursue the compensation you deserve.
Common Misconceptions about Car Accident Claims
The following are common misconceptions about car accident claims most victims have. Here is a closer look.
It's Always the At-Fault Driver's Insurance that Pays for Damages/Injuries
In Florida, the insurance system for auto accidents is based on no-fault insurance, which means that each driver's insurance pays for their own medical expenses and lost wages regardless of who is at fault for the accident. However, drivers must also carry property damage liability insurance, which can be used to pay for damages to the other driver's vehicle and property.
Since Florida Is a No-Fault Insurance State, I Can't Seek Compensation from the At-Fault Driver
It is important to note that Florida has a pure comparative fault system. In some circumstances, the at-fault driver may be held responsible for injuries. For example, if a victim has suffered a permanent injury or significant scarring or disfigurement due to the accident, they may be able to pursue a claim against the at-fault driver.
If the Accident Is Minor, It's Not Necessary to File a Police Report
In Florida, it is generally recommended to file a police report for any car accident, regardless of the severity of the accident. Even in cases where there are no injuries and minimal property damage, a police report can provide important documentation of the accident and help to establish liability if there are disputes or inconsistencies later on.
In fact, Florida law requires that a police report be filed for any accident that results in injury or death or if the property damage exceeds $500. However, even if the property damage is below $500 and there are no injuries, it is still a good idea to file a police report to ensure an official accident record.
Additionally, some insurance companies require a police report in order to process a claim, even for minor accidents. Without a police report, it may be more difficult to establish liability or obtain compensation for damages or injuries.
I Was Partially At-Fault for the Accident, so I Can't File a Personal Injury Claim
In Florida, even if victims were partially at fault for an accident, they may still be able to recover compensation for injuries under the state's comparative negligence law. Florida follows a pure comparative negligence system, meaning that damages awarded will be reduced by the accident's fault percentage.
For example, if a victim was 30% at fault for the accident and the damages award was $10,000, the award would be reduced by 30%, or $3,000, leaving the victim with a net recovery of $7,000.
I Don't Need to Hire an Attorney to File a Personal Injury Claim
While victims can file a personal injury claim on their own, it is often in their best interest to hire an experienced personal injury attorney to help with the case. Here are some reasons why:
Understanding of the legal system. Personal injury law can be complex, and an attorney can help accident victims understand their legal rights and options. They can also help victims navigate the court system and ensure the case is filed correctly.

Assessment of damages. An attorney can help determine the full extent of damages, including economic and non-economic damages such as medical expenses, lost wages, pain and suffering, and emotional distress.

Negotiation with insurance companies. Insurance companies are often focused on minimizing their payouts. An attorney can help victims negotiate with insurers to ensure that victims receive fair compensation for injuries.

Experience with trials. While most personal injury cases are settled outside of court, some cases may require a trial. An experienced attorney can represent victims in court and help present a strong case to a judge or jury.
Getting Strong Legal Representation in Florida
Hiring a knowledgeable personal injury attorney is essential for protecting accident victims' right to fair compensation. Attorney David Lee Sellers is on standby to help accident victims get the compensation they are entitled to. The firm proudly serves clients in Pensacola, Crestview, Fort Walton Beach, and Milton, Florida. Reach out today to get reliable legal assistance.