Don't Be Fooled by Tactics
Used by Insurance Companies
April 12, 2022
If you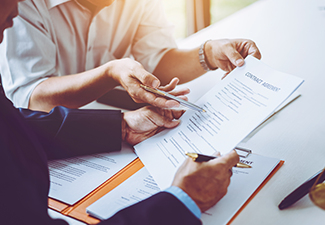 have been injured in an accident, it's almost inevitable that you will be dealing with insurance companies in some way or another. And as you may already know, many of these insurance companies are not easy to work with. At the end of the day, they are looking out for themselves. If they see a way to avoid paying out a settlement figure, they will certainly avoid it.
If you or a loved one has been injured, don't let the insurance company trick you out of a fair settlement. The experienced and compassionate personal injury attorney David Lee Sellers has a nationally rated network of professionals trained in various areas who assist them in investigating the facts of the case and preparing to meet the defenses offered by their opponents. He proudly serves clients throughout Florida, including Pensacola, Milton, Crestview, and Fort Walton Beach.
Common Insurance Company Tactics
They Offer You a Low First Settlement Offer
The insurance company realizes that many people will take the bait of a low initial settlement offer, especially during a stressful time for a person financially. Too many people have accepted far less money than they should have, either because they didn't know better or because they were tempted by the lure of a quick payment. An early offer doesn't take into account the extent of your injuries or when you will reach what is known as maximum medical improvement, referring to the point in the healing process when the person is not expected to further improve with generally accepted medical treatment.
Long Delays
Again, this is a sad but true tactic within the insurance industry. An abundance of insurance companies will stall for as long as possible in hopes that the victim will give up on the case. They will ignore your calls and emails until it becomes frustrating. Insurances companies will also hope that the statute of limitations comes into play. In Florida, the victim of an accident has four years from the date of the accident to file suit.
Failure to Conduct a Thorough Investigation
Chances are the accident that caused your injuries was caused by someone else's negligence. Still, that doesn't mean that the other party is fully on the hook liability-wise. In Florida, the law falls under a "pure comparative negligence" statute, which means if you are found partially at fault for an accident in which you were injured, your recovery of damages will be reduced. Insurance companies try to take full advantage of this by conducting a bad faith investigation into the accident, either by not investigating damages in-person, cherry-picking damaging facts, or taking longer than necessary to deny a claim.
Misrepresentation
You should know that insurance companies will use any basis available to avoid making a life insurance payout. One tactic frequently employed by insurance companies is to deny coverage based on a misrepresentation of your insurance policy. Insurers can offer many different types of coverage, including personal injury protection (PIP), collision coverage, as well as comprehensive insurance. Each type of coverage includes its own type of drawback. If you file a claim, you shouldn't be shocked if the insurance provider attempts to claim that your policy doesn't provide coverage for your specific injury. If they get their way, they won't pay you the compensation you truly deserve.
What is Your Attorney's Role in Settlement?
Many times, settlement talks begin before a personal injury lawsuit process even begins. If those negotiations break down, you will need an attorney to take legal action. An experienced attorney will not only evaluate your case and establish the pertinent facts, but they will also utilize their extensive experience in negotiating with the insurance company to reach a settlement that is in your best interest.
Attorney David Lee Sellers is highly experienced in dealing with insurance companies, whether you want to settle your claim or aggressively litigate your matter in court. If you or a loved one have been injured and is dealing with an insurance company, do not hesitate to contact his Pensacola office today for a case evaluation. Attorney David Lee Sellers serves clients in Milton, Crestview, and Fort Walton Beach, Florida.